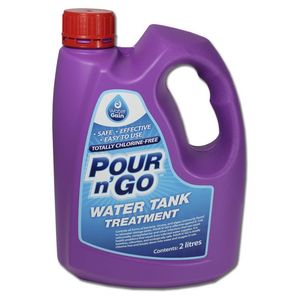 In rural NZ and Australia, water tanks are commonplace. They are quite large (1000 litres plus) and fed from roofs or sometimes spring/bore water.
In a post-SHTF situation, you might come across a vacant refuge that comes with a full tank of rain water. Of course you will have various ways of making water drinkable, but wouldn't it be marvellous if you could treat the entire water tank at once?
GeoSIL (aka Pour N Go) is a unique and powerful disinfectant developed in Switzerland, and is used extensively for water treatment in Europe, the United Kingdom, and recently North & South America. It controls bacteria, viruses, algae and fungi and significantly reduces biofilm. Its intensive formula also helps to reduce your environmental footprint by eliminating harmful toxins expelled into the environment. GeoSIL water treatment technology is trusted worldwide.
Basically you just pour it into the rainwater tank. Couldn't be easier! Worth packing, costs $50 or so in Australia (Masters sell it)