There are a million ways of configuring a "go bag", and often the differences come down to product quality.
Don't worry about the backpack itself, any pack costing say $30+ will be durable enough – if you are on the run for weeks then you need to question your tactics.
Essential items are:
water purification – I prefer to have an immediate solution like a LifeStraw, as well as purification tablets for when I am not on the go
a knife – enough quality that it won't break when you really need it
signalling – mirror or whistle
shelter – a poncho has many uses and takes up little space
food – you can last weeks without food but energy could be difference between achieving survival or not
first aid – some medicine and bandages could be worth their weight in gold
paracord – because you can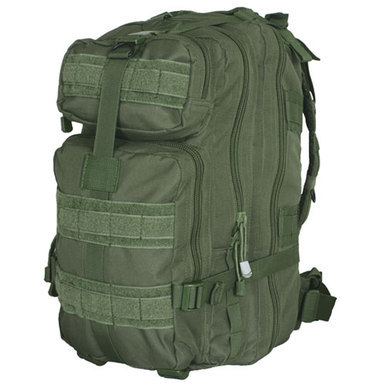 At Sigma III Survival School they have a pre-made pack that ticks most of the above boxes, and the rest you can just add. I'd prefer to build my own, but ordering this one just takes a couple of mouse clicks!