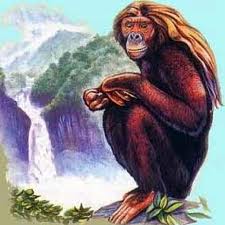 I think there is a lot to still be discovered in and around Indonesia. This where we can find the Komodo Dragon, where we have found the "hobbit" hominids, where you can see a step pyramid that is eerily similar to those of the Americas (Candi Sukuh), and where perhaps another cousin of humankind still exists!
I hadn't heard of the Orang Pendek until I saw a show on National Geographic channel called Beast Man. The reason these hominids are not accepted by modern science is down to a lack of evidence – which means witness testimony is about all we can go on. Ordinarily I wouldn't give much credence to eye-witness accounts because that would place these creatures in the same category as the Loch Ness monster and space aliens. Not particularly probable.
In this documentary the two key witnesses were of high enough quality to pay attention. Both are experts in the cryptozoology field, and both have devoted years of their life to proving the existence of the Orang Pendek – because they have encountered them in person.
Orang Pendek (Indonesian for "short person") is the most common name given to a cryptid, or cryptozoological animal, that reportedly inhabits remote, mountainous forests on the island of Sumatra.

The animal has allegedly been seen and documented for at least one hundred years by forest tribes, local villagers, Dutch colonists and Western scientists and travellers. Consensus among witnesses is that the animal is a ground-dwelling, bipedal primate that is covered in short fur and stands between 80 and 150 cm (30 and 60 in) tall.

…From 2001 to 2003, scientists analyzed hairs and casts of a foot print found by three British men—Adam Davies, Andrew Sanderson and Keith Townley—while traveling in Kerinci. Dr. David Chivers, a primate biologist from the University of Cambridge, compared the cast with those from other known primates and local animals and stated:

…the cast of the footprint taken was definitely an ape with a unique blend of features from gibbon, orangutan, chimpanzee, and human. From further examination the print did not match any known primate species and I can conclude that this points towards there being a large unknown primate in the forests of Sumatra.
Debbie Martyr has been in Sumatra for 15 years, and it appears she has remained there to prove the existence of the Orang Pendek. However she has also discovered a species of deer that was thought to be extinct, so she certainly isn't some publicity-seeking weirdo. And she is the team leader for a project to save the Sumatran tiger for the wonderful Fauna and Flora International.
Jeremy Holden is a professional wildlife photographer who has found proof of other species in Asia that were not known to currently exist. For example, he has recently photographed the Myanmar snub-nosed monkey. Watch him describe seeing the Orang Pendek here.
From watching their interviews (and noting that they are professional conservationists), I feel convinced that they are believable when they say they have each witnessed the mysterious Sumatran primate.
We have:
a general location where other branches of the human species have existed in relatively recent times
historical sightings
recent sightings by experts, and a footprint that seems like good evidence
jungle that makes their elusiveness very believable
I am quite confident that this species will be confirmed in due course. I do, however, hate to think what would then happen to it

In the long-term I expect that enough recent species of human will be discovered to prove that a global cataclysm circa 10,000 BC drove evolution. I believe that another human species, who I have dubbed the mysterious elders, who helped build societies and pyramids worldwide, might still be hiding somewhere.