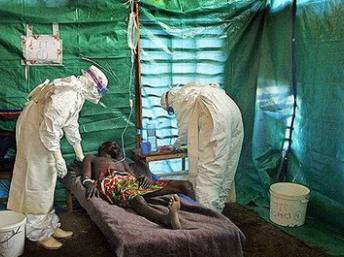 So we see images like the one above, and get the sense that if you are treating Ebola sufferers, you are fully protected and safe from harm. We are also told that the main reason Ebola is still spreading is due to ignorance and practices such as hugging the dead.
Then you read this (New York Times):
The health minister of Nigeria, Africa's most populous country, said more cases beyond the 14 known ones could arise, but thus far all are linked to Patrick Sawyer, a Minnesota resident who was very ill when he arrived in Lagos on a flight from Liberia and died soon after, on July 25.

…Twelve people who had contact with Mr. Sawyer, in the hospital or in the car that took him there, have fallen ill. Two doctors, two nurses and the driver have died.
To be fair, Sawyer insisted that he did not have any contact with the virus, and initially the doctors tested him for malaria and AIDS (source). But it sounds like anyone who came near him caught Ebola. That means it is spreading far more easily than authorities are letting on. That also means it is one mutation closer to being unstoppable.